Retirement Ceremony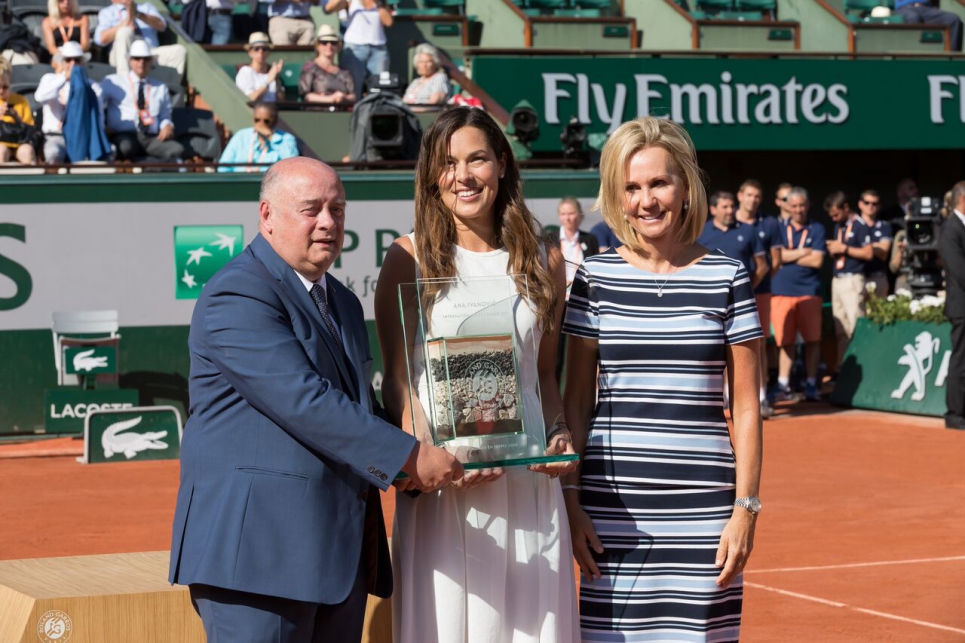 Nine years after taking the title win in Paris as the world's best tennis player, Ana was honored here, at her retirement ceremony at Roland Garros on June 8th, 2017. The ceremony officially marks her leave, which had been announced via Facebook Live last December. French Federation President Bernard Giudicelli presented Ana with her award at Court Philippe Chartrier. The beautiful award contains some of the court from 2008, the year Ana won the French Open. Ana received her trophy, a breathtaking placard and party presented by WTA, and a sweet tribute from husband Bastian Schweinsteiger.
Schweinsteiger tweeted, "Sad that I can't be with you for your official retirement today.
What you've achieved in your career has been unbelievable, @anaivanovic ❤,"
Ana leaves behind a legacy as the 2008 French Open champion, winner of 15 WTA singles titles, and the first Serbian to hold the top ranking in the world. Ana took the Grand Slam title after defeating Russian singles star Dinara Safina. Nine years later, Ana celebrates her official retirement among her mother, father, brother, peers and tennis icons like Stan Smith.
Ana shares segments of her day in a Vogue photo diary, here.