Roland Garros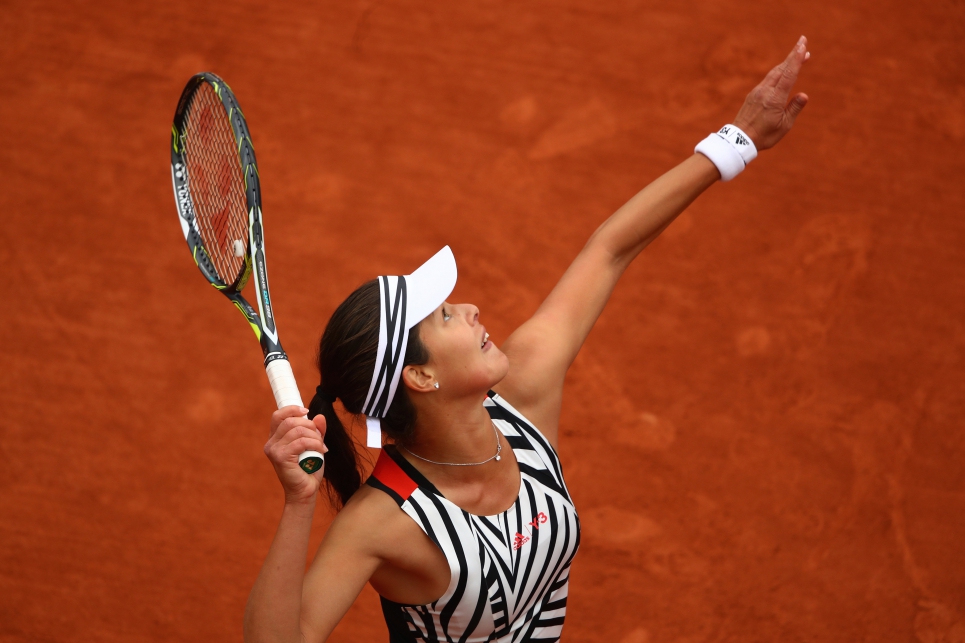 Ana's 2016 clay court season has come to an end as she was eliminated in the third round of the French Open. In the drenched city of Paris, the 2008 champion could not equal her 2015 performance, when she reached the last four-stage, as Elina Svitolina proved a little bit better on Saturday.
Tennis in Paris was heavily affected by the bad weather all week long. Also Ana's first round match against Oceane Dodin, which was scheduled to take place on Monday, was postponed for one day. To her credit, Ana coped extremely well with the long waiting in the locker room and as she finally could start her match on Tuesday, she got out of the blocks as a whirlwind. Ana needed just 17 minutes to breeze past the Frenchwoman who was gifted a wildcard to enter to main draw.
But the 19-year-old, driven by the French crowd, displayed a much better performance in the second act. She broke Ana in the fifth game, but the latter responded in great fashion by breaking back instantly. However, a second loss of serve proved fatal for the 28-year-old: she surrendered her service game at 5-5 and clinched the set one game later to get the audience on their feet.
Ana quickly re-found her focus and after going 2-0 up in the decider, the Frenchwoman's resistance was broken. Ana didn't spoil more sweat than necessary and conceded only two more games.
Kurumi Nara awaited next and proved a stern adversary in the opening set. Although Ana obtained a 3-0 lead and held multiple break points for a double break, Nara didn't fold. On the contrary, she snatched back the break and equalled at 4-all. But Ana upped her level at the right moment and clinched the set 7-5, although having faced more difficulties than expected after the first couple of game.
With the first set in her pocket, Ana was truly liberated. She now dominated the exchanges with her forehand and stormed past the Japanese to seal victory, dropping just one more game en route to do so.
Ana would need more of the same spirit against Elina Svitolina in the third round. Unfortunately for the former world No. 1, she could never really get into the driver's seat during the rallies as she was let down by her serve. Svitolina on the other hand had her game plan ready: she pressed Ana back with very solid deep ball hitting and managed to keep her unforced errors under control. Nevertheless, Ana broke the Ukrainian's serve three times in the opening set, but had to surrender her serve four times herself out of five service games.
Ana had beaten Svitolina in both 2014 and 2015 at this venue, but when she trailed 4-1 in the second set, her exit was nearby. However, Ana fought back and she managed to re-level at 4-4. But it couldn't bring any solace as Svitolina once more unleashed a couple of classy returns to break Ana and served it out on the next occasion.
Results
Ana vs O. Dodin (WTA-148)       6-0, 5-7, 6-2
Ana vs K. Nara (WTA-91)           7-5, 6-1
Ana vs E. Svitolina (WTA-20)     4-6, 4-6